Kitty Hawk—The Town of Rich History and Traditions
A part of North Carolina's Outer Banks, Kitty Hawk is a beach town established in the early 18th century. A few locals believe the town's name is derived from the Native American word 'Chickeawk" or "Chickahawk," translating to "a time or place to hunt geese." In contrast, others believe it is derived from the early English pronunciation of "mosquito hawk" or "skeeter hawk," a name used for the dragonfly.
Regardless of its origin, Kitty Hawk is an old town that's rich in history and tradition. In 1900,  the Wright Brothers were in search of a site for their aviation experiments—they required a place with regular winds over 15 mph, with a sandy surface for soft landings, gentle hills for glider launching, and a remote location to hide from public attention.
Mr. Bill Tate, a Kitty Hawk resident, wrote in a letter to the Wrights that Kitty Hawk would make the perfect location. Mr. Tate encouraged in closing, saying, "If you decide to try your machine here and come, I will take pleasure in doing all I can for your convenience and success and pleasure, and I assure you, you will find hospitable people when you come among us." This tradition lives on even today.
Even today, Kitty Hawk is a traditional village consisting of a beach community of residential hotels and cottages, low to medium density, single-family residential developments, and small businesses. Kitty Hawk Woods, a 461-acre maritime forest reserve, serves as an abode to a wide array of plant and animal life. The residents and the authorities in Kitty Hawk believe that development should happen in harmony with nature.
Education in Kitty Hawk
Kitty Hawk, located in Dare County, is served by the Kitty Hawk Elementary School and the Heron Pond Montessori School.
For the year 2020-21, Kitty Hawk Elementary School was ranked as one of the best private schools in North Carolina, serving a total of 134 students.
Homes for Sale in Kitty Hawk
Climate in Kitty Hawk
The summer season in Kitty Hawk lasts for 3.5 months, from June to September, with an average high temperature of 88 degrees.
The winter seasons last from December to March for a total of 3.3 months with an average low temperature of 34 degrees.
Public Transportation in Kitty Hawk
The best way to get around Kitty Hawk is by car. The town is also relatively flat and has a variety of bike paths. Consider a bike if you are looking for a leisurely and scenic way to explore the area.
Nevertheless, if you don't have access to your own bike or car, you can rent one from the many bike rental shops in the area, including Kitty Hawk Kites and Ocean Atlantic.
Living in Kitty Hawk
The Wright brothers' historic flight that took place in Kill Devil Hills is what made Kitty Hawk famous around the world. The nearest telegraph was at the Kitty Hawk Lifesaving Station, which has currently been turned into the Black Pelican restaurant.
Presently, Kitty Hawk features high dunes in the south, oceanfront cottages on the beach, and year-round areas in the north. The original Kitty Hawk village that has been resting on the sheltered sound side for over a hundred years before the Wright brother's arrival still exists today, and this is where most of the residents live.
The communities on the west side of Kitty Hawk include Sandpiper Cay featuring condos, a community pool, and Seascape wound around a golf course of the same.
The Oceanside in Kitty Hawk has a small beach atmosphere with clusters of smaller cottages nuzzled between the oceanfront and the highways. However, there are also newer homes and year-round and vacation rentals that add a modern touch to the area. A few townhomes can also be found between the highways, such as Sea Dunes with its clubhouse, pool, and tennis courts.
Things to Do in Kitty Hawk
Regardless of what you are looking to do, the lively town of Kitty Hawk is brimming with attractions. Eco-sports, fishing, watersports, golf, and you name it, Kitty Hawk is located close to many active and adventurous activities.
Situated just north of Kill Devil Hills, the town of Kitty Hawk is famous for its beautiful beaches and a slower pace than some of its neighboring towns. Residents can hit the beach road to try out some local cuisine and catch a glimpse of the ocean view or visit the Kitty Hawk Pier.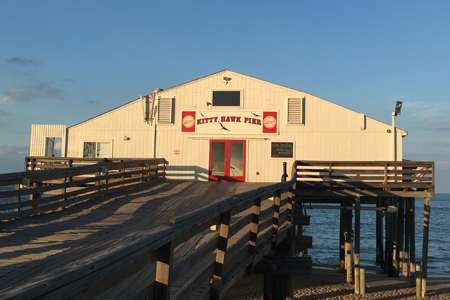 Kitty Hawk is also a haven for those who love watersports. From boating to surfing, standup paddleboarding, and parasailing, there are many fun activities to indulge in. However, there are other things to do in Kitty Hawk, NC as well, such as art classes, hiking in the dense maritime forest, or hitting the gym for a good workout session.
Want to relax? Yoga classes and spa treatments make an ideal option. You can also rent bikes from the local rental shops and go for bike rides with your whole family. Regardless of what you choose to do, Kitty Hawk represents the Outer Banks at its finest.
Have Questions? Ask Liz!
Your real estate agent is the best source of information about the local community and real estate topics. Give Liz J. Holterhaus a call today at (252) 202-2156 to learn more about local areas, discuss selling a house, or tour available homes for sale.