Sold my home in record time.
Liz did a great job beginning to end. The staging she did was awesome.Her marketing of the home with the professional pictures help sell it quick.She worked hard keeping the transaction together and moving it to closure on time.It would not have happened without her determination. I highly recommend her. Thank you Liz.You are the best!
Liz Deserves Six Star Rating!
My wife and I cannot thank Liz Holterhaus enough for all of her assistance in guiding us through to the purchase of our second home. Liz went above and beyond on numerous occasions. She was always quite responsive and professional. An added bonus was not only her thorough knowledge of the local real estate market, but her ability to point out a property's positive and negative details in an impartial way. She deserves at least Six Stars, and we wholeheartedly recommend her to anyone looking to be part of the OBX!
A Dream Come True!
As soon as we were introduced to Liz we knew we were in good hands. Immediately she began to show us homes, noted what we liked as well as what we didn't like. Liz found the perfect home for our family and made our dream of owning a beach house come true. Thank You!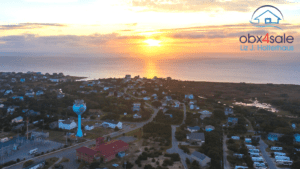 Market Report
The median sale price for single-family residential properties of all Outer Banks communities at the end of September 2022 was $595,000, which is up 20%.